This year's hottest neuroscience event is quickly approaching. The Annual Society for Neuroscience (SfN) Conference is the largest meeting of brain scientists, enthusiasts, and vendors. Attracting over 30,000 people a year and spanning 5 days, it's easy to get overwhelmed and lost in the sea of posters, seminars, and satellite events. Here are my tips for not only surviving, but thriving at large conferences.
1. Plan and prep like a pro.
Conferences like SfN have hundreds of presentations happening every day. If you show up without a plan, you risk missing important opportunities and wasting time wandering around aimlessly. A couple weeks before the meeting, prepare a comprehensive itinerary. Use the program and abstract database to build a list of seminars and posters you wish to visit by searching for keywords or people relevant to your field of research. Once you've made a master list, highlight 3-5 posters and 1-2 seminars that are your priority for each day. In my experience, your retention of subsequent presentations will begin to fade as you fatigue, so ensure you attend the most important ones first. Next do some sleuthing and determine what evening social activities you'd like to attend (e.g., satellite events, vendor socials, subfield happy hours, dinners etc.) and add these to your itinerary with the date, time, and location. Most importantly, print out your itinerary to bring with you. While SfN has a scheduling app, it often malfunctions or the access to WiFi is spotty. You'll be grateful to have a backup.
You will meet dozens of new people a day so create and rehearse a 15-second introduction and a 2-minute "elevator pitch" about yourself and your work. Your 15-second pitch should include: who you are, where you are, what you study, and perhaps a unique fact to make yourself more memorable. For example, "Hi, I'm Caitlin Vander Weele and I'm a PhD student in Dr. Kay Tye's lab at MIT. I study the role of mesocortical dopamine in emotional decision-making and I also curate a science and art initiative called 'Interstellate'." Your 2-minute elevator pitch should include a more in-depth charaterization of you and your work. For example, what is your research hypothesis, why is it important, how are you investigating this question, what are your results, and how your work fits into the field, or why should we care?. If you're on the job market, tailor your pitch to include outside experiences, expertise, and values that are important to you. Your pitch should be tailored to your career needs at the time and highlight what makes you unique. Having something prepared will ensure you maximize networking interactions and minimize anxiety.
SfN is an amazing opportunity to meet neuroscientists from all over the world so set up 2-3 meetings. Several weeks (if not months) ahead to time, email colleagues that work in your area of expertise that you think are cool, interesting, smart, or someone you might want to work with in the future. Whatever the reason, shoot them an email and ask if they'd be willing to meet for coffee and set a day / time / location. Use a descriptive title (i.e., "Brief meeting request at SfN - Potential graduate student") and tell them who you are and why you would like to connect. While you may anticipate meeting colleagues and various events, 15 minutes of guaranteed one-on-one face time can lead to valuable professional relationships.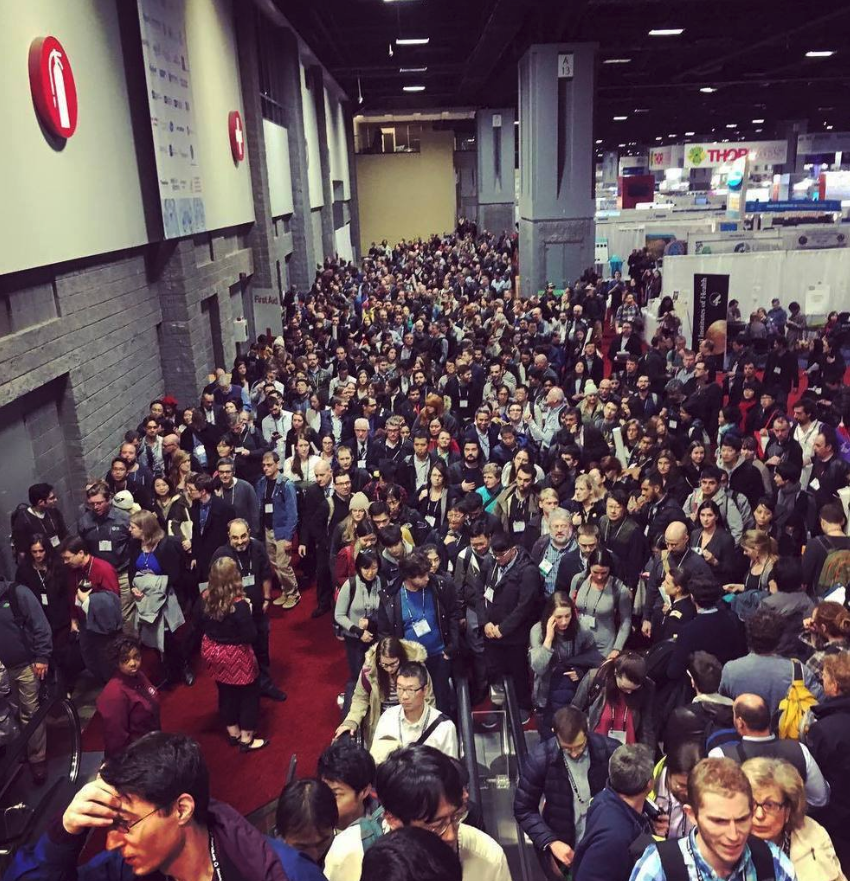 A sea of people leaving the poster hall at the end of the day. Image by: Dr. Rebecca Shansky.
2. Work the conference floor.
During your first trip to the conference center, time your commute so you can factor it into accurate future planning. As soon as you arrive, take a quick lap (or two) to build a mental map of the landscape. Find the poster hall, large lecture rooms, small lecture rooms, art booths, bathrooms, and any other locations that you might require. Connect to the WiFi and test its reliability and speed. Once you're comfortable, check your itinerary and make a plan for the next several hours. While attending presentations, don't forget to take notes about the science and the people! Jot down names of presenters and key scientific takeaways. Large conference are overwhelming and you will remember far less than you think you will. Having a record of who you saw, where they work, and what they found will come in handy - trust me!
NETWORK. While you might feel most comfortable socializing with your labmates and friends, building a professional network can be the most valuable aspect of conferences. Conferences are full of interesting people, future colleagues, and important connections, so push yourself out of your comfort zone and meet new people. Networking is a skill that requires practice, so use your prepared pitches, practice on friends, and ask people in your network to introduce you to others. There are many useful networking tips and tricks. One strategy that I employ is the art of the mutual introduction. When I meet people, I try to remember their first and last name, and a fact or two. Then I use whatever information I've remembered to make memorable introductions between colleagues. For example, "This is Bob Gray from Harvard and he studies social behavior. Please met, Sarah Mills, she's a PhD student at the University of Michigan." This simple act is valuable to all parties involved and will help establish you as a "person to know" within your growing network.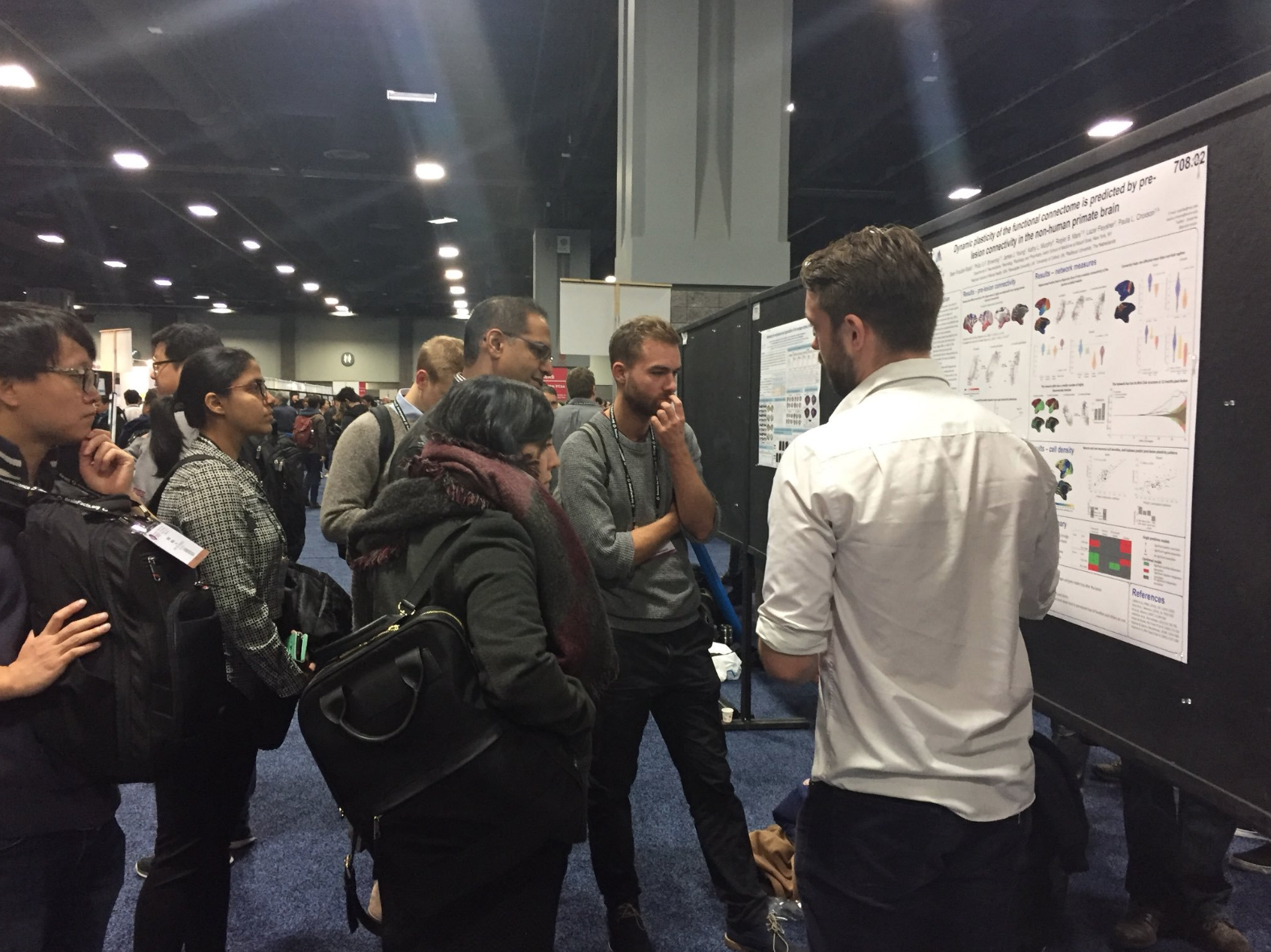 Dr. Sean Froudist-Walsh presenting his poster. Image by: Dr. Paula Croxson.
3. Location, location, & snacks.
An often overlooked part of conference prep is your housing accommodations. Your lodging will set the tone for your entire week so optimize for comfort and accessibility. What this means to different individuals may vary, but I prioritize two things: proximity to the conference center and food availability. My optimal housing situation is a hotel within walking distance to the conference center (<20 minutes) that offers continental breakfast. Being able to walk to and from the conference gives you a lot of flexibility and can take away some of the stress of planning your transportation. For me, having the option of taking a quick afternoon nap or some extra "me time" before late-night activities is worth the extra cost.
If you can't get a close hotel within your budget, SfN partners with various hotels in the surrounding area to provide free shuttle transportation. While it takes a bit more planning, a 10-20 min shuttle ride could be an excellent opportunity for you to review your schedule for the day and hit the conference floor running. In both cases, don't overlook the perk of continental breakfast. Scientists love their coffee and lines at the conference center can be absurd — not to mention the the insane price-to-quality ratio. Grab your coffee, a muffin, and some fruit at the hotel and save yourself both time and money.
If you waited too long to book and all the hotels are sold out, have no fear, you can always rent. Find the closest one to the meeting or convenient public transportation and snatch it up. Regardless of where you stay, make sure you have some food stocked. Once you're checked in, head to the grocery store and pick up some essentials. Some good things to have are coffee, fresh fruit, granola bars, some easy meals, etc. I always grab Lunchables and Clif Bars to bring with me in case I don't have time for a proper lunch. If you're renting, pack a travel mug to bring your coffee with you!
Inscopix community members at our SfN 2017 social event.
4. Pack smart.
SfN is a marathon of long days and lots of walking so when it comes to what to wear, the answer is whatever makes you feel comfortable. SfN is relatively casual so you can skip the suits and high heels if you want. I tend to opt for outfits that easily transition from day to night: comfy black pants, a blouse or sweater, and heel-less boots or sneakers. To take the stress out of deciding what to wear each morning, I make a packing list outlining an outfit per day so my early-morning, coffee-deprived brain can get ready on autopilot. If you're presenting a poster, giving a talk, or interviewing for jobs / graduate schools it might be worth packing a more business casual look for those events. Keep in mind that you are at a professional event, whether your perusing posters or at the happy hour, so try to find the happy medium between comfort, self-expression, and professionalism.
I recommend preparing a small tote to carry with so you're ready for anything. Your essentials may differ, but mine are: small notebook, pen, business cards, water bottle, eye drops, Tylenol, EmergenC packets, a cell phone battery pack + cord, Throat Coat tea bags (a voice saver!!), blister band-aids, mints, a light sweater or scarf, hand sanitizer, and snacks. If your going to be stuck at a conference all day (and maybe out-and-about all night), it's good to have any necessary items on hand. Pro Tip: If you didn't pack a bag, SfN vendors always supply various totes as swag!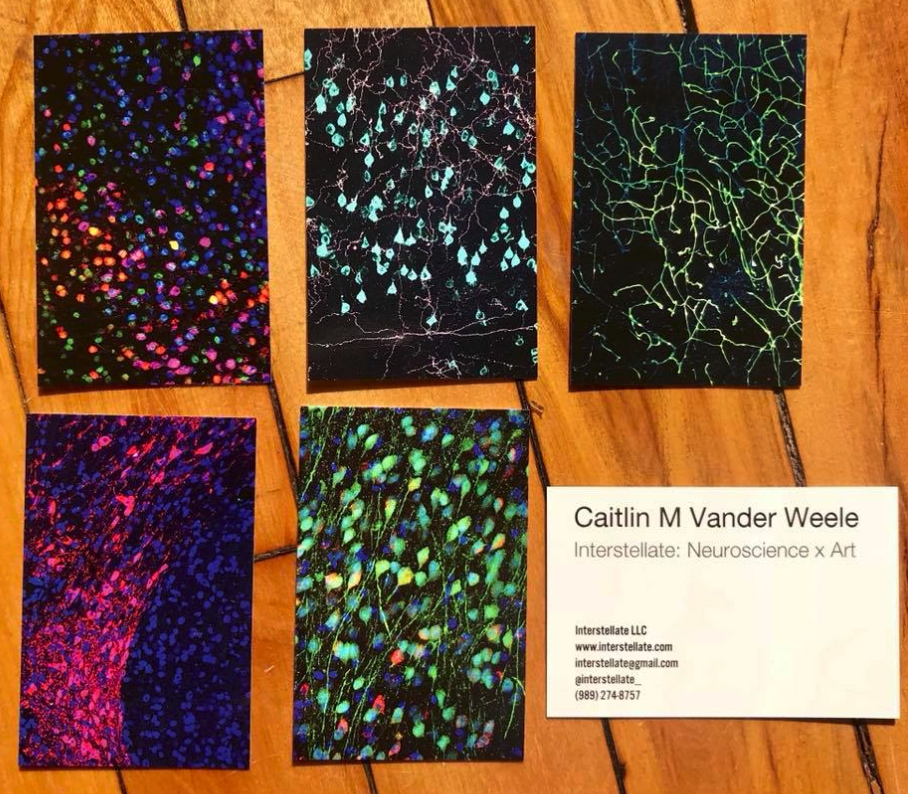 My business cards made on moo.com featuring histology images.
5. Rest, review, and reconnect.
The annual Neuroscience meeting is a whirlwind and you'll be exhausted (and relieved) when it's over. If you can, take time to to rest and recover. Sleep in, eat healthy foods, and drink plenty of water. The post-conference cold is all too common so take care of your mind and body. Next, review your notes, think about what you've learned, and the people you've met. I like to make a brief summary of my major scientific and networking highlights. I also mentally go through all the people I've met and the business cards I've collected to make a list of people to reconnect with. In some cases I look to follow them on social media or LinkedIn, for others I send a quick email saying it was nice to meet them. If I discussed a paper or article with someone, I'll shoot them a note with the media attached for them to review. Conferences are busy for everyone and a post-conference follow up can refresh and consolidate a new connection. Mastering "conferencing" takes time. Don't forget to take a few steps back and identify skills you've strengthened and weaknesses that you wish to improve upon. Once you've decompressed, you'll feel energized and excited to get back to the lab!
What is your conference advice? Let me know in the comments or email me at cvanderweele@inscopix.com